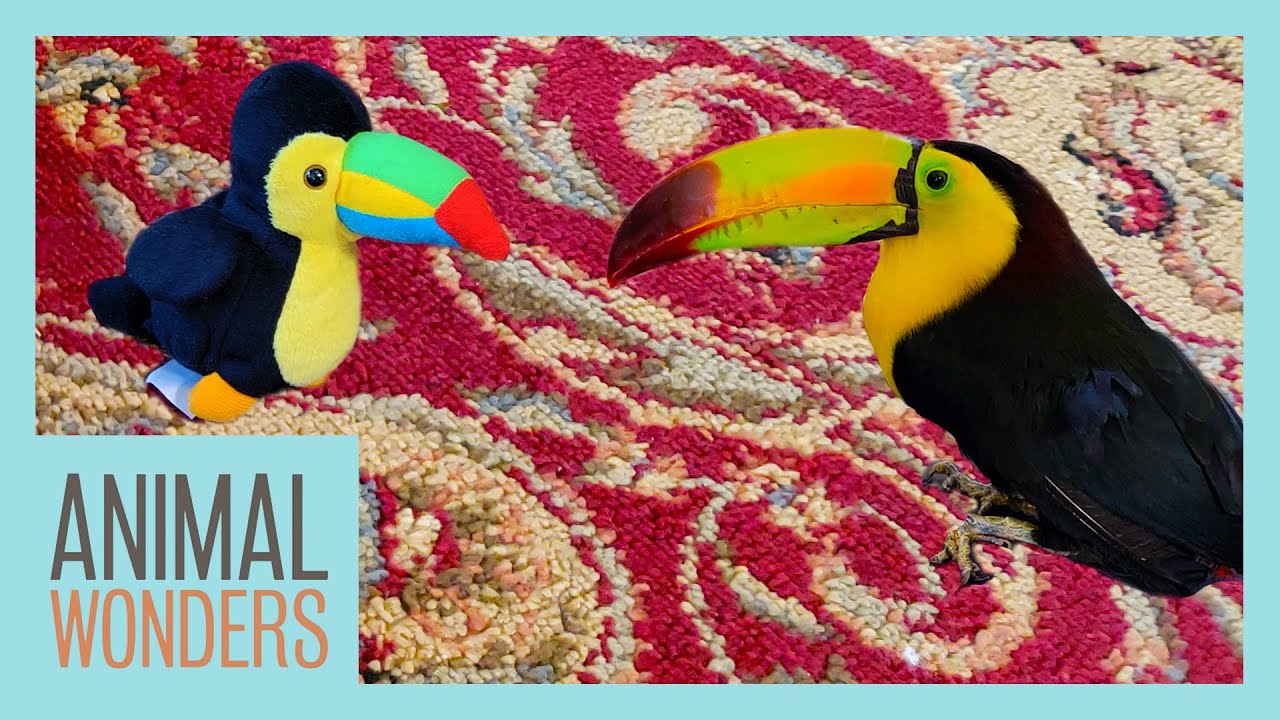 Toucan Gets Toucan Toys!
Zeema the keel billed toucan is treated to some new toys, but, could these new toys be potential intruders? What will Zeema do to a look-a-like stuffed toy and a handmade painted toy that looks just like her?
Our Video Sponsors:
Gibson G. Cates
J
Cecelia
DankPods
Jesse Mozingo
Jason And Zac
Erin Nass
Team Sando
Elizabeth Jenkins
Isobel Brundage
Anne Elliott
Charles Fromm
Andrew Lehmann
Anton Briefer
Josephine McCauley
Ill Gotten Games
Samantha Hershauer
Lilla Kovacs
Maria Martinez
Erin, Evi, and Mike
Courtney Biddle
KW
M.L
Theresa Kolodziej
Michael Petzold
Eric Wenocur_Kim Keller
Melanie Reif
Nicole Hands
Erin Radcliffe
Bryan Liston
Lauren Clement
E
Andrew Strickland
Cheryl Rockett
Ari F
Leo Chavira
GreenAppleFields
Lee Wade
Tim Shields
Jonathan Paz
Kristine
luxi
Vodwalker_Floz
Beth Dloniak
Aria Kushner
Sabrina Grimble
Katherine Booth
Tawny Windermere
Casie Tuck
Mark Cooper
Elizabeth Grodin
Michael
Hannes Friedmann
Naomi Williams
spags
Jessika Keidel
Matt Moreno
Ethan Gregory Dodge
Mike Nichols
Thank you so much for helping make these videos possible!
If you'd like your name here or featured at the end of an episode, you can become a sponsor at https://www.patreon.com/animalwonders
--
Looking for more awesome animal stuff?
Subscribe to Animal Wonders Montana to see all of our videos!
Youtube: http://www.youtube.com/user/Anmlwndrs
Other places to find us:
Website: http://www.animalwonders.org
Patreon: https://www.patreon.com/animalwonders
Instagram: https://www.instagram.com/animalwondersmontana/
Facebook: http://www.facebook.com/animalwonders
Twitter: http://twitter.com/Animal_Wonders
Amazon Wishlist: http://www.amazon.com/gp/registry/wishlist/CODQMBOVLCE4?pldnSite=1
Animal Wonders Montana
Animal Wonders on YouTube shows our animals being amazing and also shares behind the scenes footage of what it's like to care for 80+ exotic animals and share education locally and on the internet....